Advantage
1.doing PE coating from 1997
Our factory doing PE coating from 1997.We have well trained and sufficient Technicians will provide excellent and quality service.
2.More than 10 years printing experience.
Starting from 2003, our factory doing paper printing for paper cup, paper meal box, paper lids, paper plate etc. We special high salary invited 5 experienced printing technicians. Every master in is trained strictly with decades of printing experience.
3.Advanced high-speed 6 colors felxo printing machine EKOFA
Two high-speed machines are from EKOFA and DONGHANGAND with advanced world levels. Which are operated by interactive computers can control the printing quality efficiently. It can make ink layer to be thick and solid, color duration to better than common.
4.Various sizes of cylinders for printing machine.
Our factory supply different size of cylinder that meet most paper cup fan size. In this way, the utilization of pe coated paper can be improved dramatically

Production Procedure




1. Producing pe coated paper for paper cup fan Single pe coated cup paper for hot dirnk Double pe coated cup paper for cold drink
Single pe + Clay coated paper for cold or hor drink





2. Pe coated paper cup blanks for cold drink printing

Material list:

Food grade pe coated paper; Food grade ink. Design plate (1 plate for 1 colors, six color paper cup fan need 6 design plates)


The paper cup fan printing is controlled by human-interactive programs to insure high quality of printed performance.

Paper is printed one roll by one roll. Its fastest printing speed can arrived at 130m/minute.


The ink used on double PE paper, dry faster, harder to fade, higher adsorption capacity.




3. automatic die cut for paper cup fan

After printing on paper roll, we will cut paper into fan shape by automatic die cutting machine. During this procedure, paper roll will cut into sheet size.

4.Cleaning the wastage

After die cut, there has other paper wastage bonded with paper cup fan on a sheet paper. Worker will clean the wastage by repeated hammer, then pick the paper cup fan out from sheet, put into cartons.



Carton weight: below 30kg,
Carton size: customized
. Height is fixed at 280mm or 320mm.



1 ton pe coated paper roll= 870~890kg paper cup fans.

5.Loading paper cartons and pe coated paper bottom in container.


Information for paper cup fan

Product name

Paper cup fan for hot drink

Material

150gsm~350gsm Paper+ PE(12gsm~26gsm)

Printing

Flexo printing / Offset printing

Usage

Paper cups for hot/cold drink

Feature

High shinny surface, good brightness, stiffness, printing effect

Max Size

Max paper roll width 900mm

Max Printing width 894mm

Quality level

KD1-CB KD2-CB KD3-CB KD2-NB

Packing way

Plastic packing inside, cartons packing outside.

1 carton's weight is control below 30kg

Loading

1*20gp can load: around 12 tons paper cup fan+3 tons paper cup bottom= around 15tons

1*40gp can load: around 20 ton paper cup fan+ 5 tons paper cup bottom=around 25tons

Lead time

Around 30 days after receive deposit


Paper cup fan design
Our factory offer design service for papr cup fan
Below are some printed design of our factory: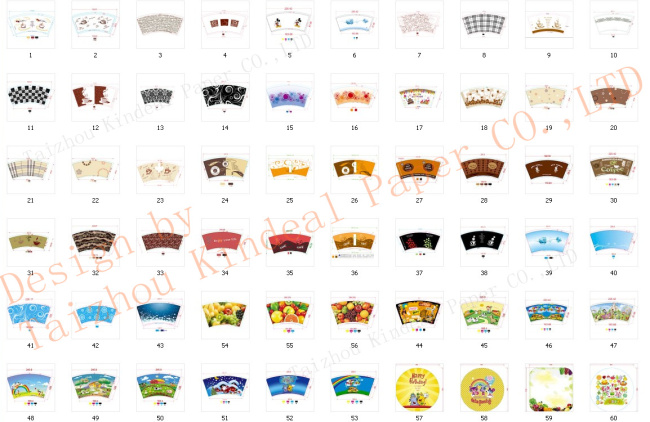 We Can Supply: