Advantage
1.Doing pe coating from 1997
We are doing PE coating for paper since 1997.All technicians go through rigorous training of pe coating skills.
2.PE coating's smoothness and uniform is promised.
Four PE lamination machines all control by automatic man-machine interface operation, precise
3. Wastage part in roll paper decreased.
PE coating procedure is using advanced automatic paper-receiving technology to reduce the wastage at inner and outer part of paper roll.
4.Two packing procedure ensure sealing effect to protect cup paper from humidity and damage during transportation.
All PE coated paper rolls are packed by craft paper inside, then wrap several laps of plastic tight outside of craft paper.

Production Procedure

1. Uploading raw material paper on PE coating machine.
2. Pe coating procedure
PE melted in high temperature machine then evenly coating on raw material paper surface.
For double pe coated paper will through an additional corona coated on printing side of paper. This procedure is must for double PE coated paper in order to print later.


3. Unloading pe coated paper.
After finish PE coating, discharged the finished Pe coated paper from machine


4. Packing
First, using craft paper pack around the pe coated paper;
secondly used automatic packing machine wrapping plastics outside of paper.

Gram & thickness of pe coated paper for cups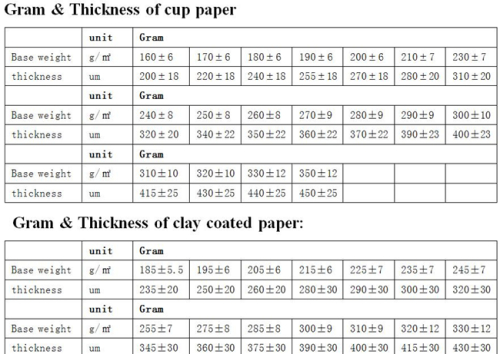 Product name

pe coated paper for cups in roll

Material

150gsm~350gsm Paper+ PE(12gsm~26gsm)

Usage

Paper cups for hot/cold drink ;Paper plates ;Paper dishes;paper lids;Meal boxes;

Feature

High shinny surface, good brightness, stiffness, printing effect

Max width

Single pe coated paper for cups in roll 1600mm

Double pe coated paper for cups in roll 1300mm

Quality level

KD1-CB KD2-CB KD3-CB KD2-NB

Packing way

Sealed package

Craft packing inside, Plastic wrapping outside

Loading

1*20gp can load:around 15 tons pe coated paper

1*40gp can load: around 25 ton pe coated paper

Lead time

Around 15workingdays after receive deposit

Useage for this paper:
Single side pe coated paper:
paper cups for hot drink, such as coffee cups, tea cups, milk cups.
paper cups for dry food, such as french fries cups, meal boxes, paper plates, cake plates.




Double side pe coated paper:
paper cups for cold drink,such as coca-cola drinks, Pepsi drink cup, cold fruits paper cups, ice cream paper cups, ice cream paper lids, meal boxes, french fries cups, doggy bags, paper plates.etc


s
We Can Supply: